Big News for the Comet Community: Scale Your Organization to Do More With ML
At Comet, we are continually working to empower teams to manage and optimize the entire machine learning lifecycle. Our mission is to help companies accelerate ML-driven business outcomes. Today, we are excited to debut new features and a new pricing model to further empower companies, from startups through enterprises, to innovate more efficiently.
The Comet Admin Dashboard
As companies scale beyond a single team, it becomes harder to manage multiple users across a single workspace, or to manage multiple teams across separate and unconnected workspaces. In these scaled environments, administrators need to:
manage and track different workspaces
easily identify and manage all users across an organization
track collective usage across the organization
manage permissions and access
Previously, account settings may have seemed a bit confusing to navigate, and the settings tied users and workspaces more closely to one another than users would like. This kind of structure made organizational continuity more difficult than it needed to be. In our latest release we have made a number of updates to the user interface that make settings a snap to manage centrally.
The newly released Admin Dashboard brings greater clarity and flexibility in managing organizations. The addition of separate tabs for Workspaces, Users, Service Accounts and Billing allows for the separation of data and actions, greatly streamlining Comet's administration and organizational efficiency.

Workspaces – displays all the workspaces in the organization and allows you to create workspaces, invite others to become members of your workspace, delete a workspace, or remove members from a workspace.
Users – displays all the users in the organization; and as administrator you can assign a role to users or delete users.
Service Accounts – displays service (non-human) accounts. As administrator, you can create and delete service accounts, as well as generate API keys for them. Service accounts are not included in your seat count.
Billing – displays all information related to organizational billing, plan terms, and usage. As administrator, you can change billing details, manage your plan, and view invoices.
Introducing Organizations
As our biggest clients scaled, it became harder to manage multiple workspaces. Teams wanted to work in siloed, organized spaces; data scientists wanted to collaborate (even with researchers outside the organization); while admins wanted a centralized place to manage it all.
To solve these challenges, we introduced the concept of Organizations, providing an abstraction on top of a workspace, which can contain multiple different workspaces. A user can be part of multiple organizations and easily navigate between them. For example, a user can be part of their professional company organization while also working with their friend as part of another organization.
This new feature helps teams coordinate and communicate better throughout their processes. And it allows users to join unlimited organizations! Research on your own, solve challenging problems with friends, and/or advance your company goals all utilizing Comet.
New Usage-Based Pricing
At Comet, we pride ourselves on responding to the needs of our customers, our users and the larger ML community. As such, we are unveiling a new pricing structure that offers several benefits:
Simple to navigate

Instead of two similar plans where you are perhaps not sure which to choose, the new plans are clearly delineated based on need.

Lower cost to start

Teams can now use Comet at a much lower price point right from the start
Pricing scales up and down with usage so that you only pay for what you need and use

Supports bigger teams

New self-serve pricing now allows teams up to 10 members
And for teams scaling beyond 10, your sales rep can work with you to develop custom plans and configurations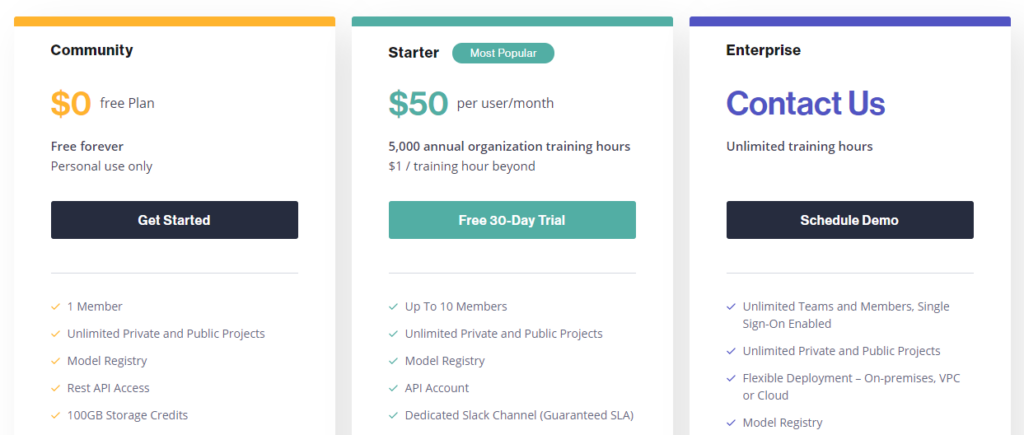 For customers, if you're happy with your existing plan, it's yours to keep. No action is required!
If you're curious about how we calculate usage, we charge per experiment hour. Every time you log data to Comet it counts towards your usage, but downloading data is free! To learn more about our new pricing plans, visit the pricing page to review detailed plan descriptions.
As you can see, there is a lot to be excited about! Check out the new capabilities today: /signup; and we invite you to share feedback in the Comet Community Slack. Or get in touch to learn more about these exciting new features.